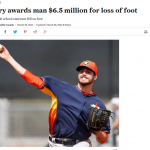 Everyone here at SA Legal is excited about the massive victory our clients had in Bexar county district court last week. Congratulations to Brian Steward, Jay Moore and Ryan Todd for a well tried case.
Cumpian was working for Leal Welding and Erection in May 2012 as a subcontractor on a Joeris General Contractors job site. Cumpian was working as a welder's assistant when a metal staircase that was being moved via forklift was dropped onto his foot.
This was a rarely seen bifurcated punitive damages case where the jury found for the plaintiff in the amount of $5million.
Read more about the case here: http://www.expressnews.com/news/local/article/Jury-awards-man-6-5-million-for-loss-of-foot-6161884.php
We helped support the trial from the trial notebooks to the trial presentation.